Maria Santos-Alcantara

Using repousee and chase techniques, Maria forms pewter sheet into a variety of objects such as, photo frames, mirrors, jewellery boxes, decorative panels, brooches, pendants,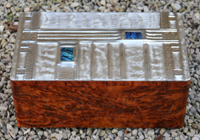 She uses a combination of different materials such as enamels, glass and semi precious stones on wood, aluminium or silver as a base structure.
Some of her commissioned work is for large mirrors with decorative pewter surrounds. No two pieces are exactly alike as no casting or pressing is involved. Each piece has been worked individually from the artist's own designs.