Annus Horribilis at Percy House
On the fateful night of November 19th 2009 the Rivers Derwent and Cocker burst through the town as a raging torrent. Viv Austin and staff waded chest deep saving as many paintings as possible as the water rose. Eventually they had to be rescued by boat from a first floor window that night. Viv recalls: "As we climbed out the firemen had to struggle to keep the boat stable as the river was surging through the archway under the gallery taking trees and everything down to the brewery and beyond."
The gallery was completely flooded downstairs. However many artworks were safe on the first floor and the historic ceiling unaffected. English Heritage inspected and found no structural damage to the ancient bulding.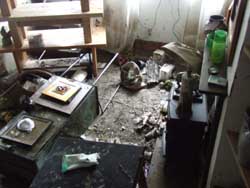 In the days that followed we had the heart rending task of clearing all the ruined artworks. The ground floor was left with layers of river mud and the ornate plaster ceiling was beginning to yellow with damp. After much discussion and meetings with English Heritage it was decided the only course of action was to dry the building very gently in order to preserve the unique plaster work. September saw the restoration ready to start but insurance problems yet again held up the work and it was not until October that the contractors finally started.
Yet the challenges for Percy House were not over. Even as contractors started restoring damage to the ground floor walls Allerdale council slapped a Stop notice on work after querying the type of plaster being used. And as if to rub salt in the wound it was on November 19th, exactly a year after the floods that the Stop was imposed. This meant the gallery and its artists missed the busy Christmas period. Finally, with help from the local media and MP Tony Cunningham the council agreed, after all, that the work should proceed.
2011 and once again Percy House is back to its former glory. Thanks to contractors Roland Hill, the historic building has been sympathetically restored. Local joiner Chris Jordan has also added beautiful oak fixtures and fittings. The gallery is now fully restored and open, so please call in anytime!